Welcome to Bosque Del Rio Homes For Sale


Bosque Del Rio is a private community near the Rio Grand River and the Bosque (Cottonwood Forest). The Bosque Del Rio Neighborhood may be one of Albuquerque's best-kept secrets! This website is a great place to find all Bosque Del Rio homes for sale. Situated just south of Paseo Del Norte (a vital river crossing) and just east of Coors Blvd, this quiet community is rarely even noticed by most passers-by. The gentle access road is not often traveled by those not residing there.
Learn more about Bosque Del Rio Homes For Sale.
Bosque Del Rio was a test development by Centex homes; they provided the basic floor plan for many models but allowed the initial buyer to modify that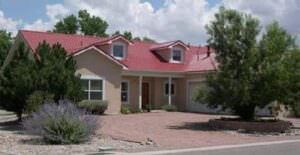 plan beyond that of a production builder. The customer was given the freedom to rearrange walls and essential design elements of the home; this created a much more customized look to the individual houses, particularly the interiors. You may discover that a neighbor's home has a similar floor plan but with many different features that set it apart. This strategy was a big hit with Centex, and the neighborhood is now desired by many buyers looking for Bosque Del Rio homes for sale.
There are approximately 115 homesites in the Bosque Del Rio homes for sale community, with some fully custom homes on larger lots that back direct to the Bosque (Cottonwood forest or woodlands). Most floor plans are 3 – 5 bedrooms ranging from 1900 to 3700 square feet. Priced between the low $500s and up, it is a neighborhood within reach for many.
A majority of the Bosque Del Rio homes for sale are single-story with either a Northern New Mexico style (Steeply pitched metal roof w/dormers) or a Pueblo Revival style (flat roof) instead of concrete driveways; many have caliche (crushed rock) style drives. The neighborhood has an abundance of nicely matured Cottonwood Trees, providing shade and beauty. An inviting private park is available and maintained by the association.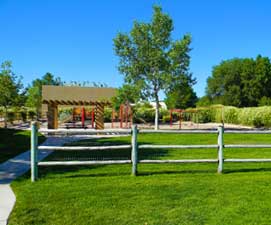 Bosque Del Rio is a covenant-protected community; visit Bosque Del Rio Homeowners Association or BDRHOA for additional information. There is private trail access from the Bosque Del Rio Subdivision for the community residents only. With street names like Casa Del Rio, Bosque Del Sol, Bosque Entrada Trail, Pueblo Grande, and Rio Orilla, you will love your new address.
The location of Bosque Del Rio is a premium benefit with its proximity to the Rio Grande River and Cottonwood forest. Located just two minutes to Coors/Paseo Del Norte and five minutes from the Cottonwood Mall, major retailers and an abundance of top-name restaurants are all nearby. You won't have to travel far for anything, including a Bank of America, Bob Burgers, Petroglyph Animal Hospital, and even High Desert Bicycles are all just around the corner. Bosque Del Rio is in the 87120 Zip Code of NW Albuquerque and part of the West River Valley MLS Sector. Please find more information here on the Bosque Del Rio Blog.
Search here for Bosque Del Rio homes for sale.
The Neighborhood of Bosque Del Rio is served by the Albuquerque Public School System (APS.edu) with Cibola High, Lyndon B Johnson (LBJ) middle, and Petroglyph Elementary. Private schools, including Saint Pius X and Bosque School, are also available.
Current Bosque Del Rio Homes for Sale
Bosque Del Rio Homes For Sale (Open Houses)
Bosque Del Rio Homes for Sale Map