All Oxbow Homes For Sale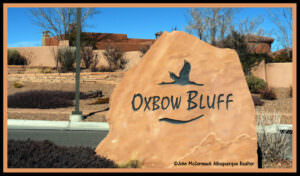 Welcome to Oxbow Homes For Sale.  The Oxbow Neighborhoods are in NW Albuquerque, NM 87120.  The Oxbow homes for sale offer a wide variety of housing options. The Oxbow community is technically five separate subdivisions: Oxbow North, Oxbow Bluffs, Oxbow Village, Oxbow Park, and Enclave at Oxbow.  The range of Oxbow Homes For Sale is extensive, from 1500 sq. ft Patio homes in Enclave at Oxbow to grand luxury custom masterpieces in Oxbow Bluffs. Some of the communities are gated, while others are open. Scroll down to see all available Oxbow homes for sale.
Oxbow development began in 2004′ with Charter Homes being the primary builder. Some of the larger lots on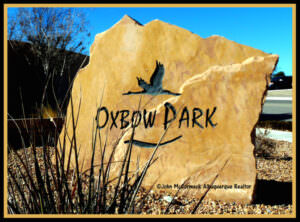 the eastern edge of Oxbow and nearest the Rio Grande River were made available to custom home builders and their clients. The incredible views of the Sandia Mountains, Rio Grande River, Bosque (Cottonwood Forrest), and the expansive Albuquerque city lights are unparalleled at these designated home sites. Charter Homes created an excellent mix of affordability yet a custom feel in their home offerings. The Oxbow real estate market remains strong with excellent resale opportunities.
All Oxbox homes for sale are in an excellent and accessible area of Northwest Albuquerque in the 87120 zip code. Oxbow is North of I-40, approximately 1.5 miles East and parallel to Coors Blvd and between Namaste to the North and Sequoia to the South. The steep drop to the Rio Grand River serves as a natural border on the East and provides a breathtaking backdrop to include the Sandia Mountain Range. The highly acclaimed and private St. Pius X school separates Oxbow North from the other four Oxbow communities.  
Shopping, restaurants, medical facilities, and all modern conveniences are close enough to be appreciated but far enough to be unnoticed. Starbucks, Chic-fil-A, and Panera Bread are around the corner. Major Big Box stores are all within a few minutes drive too.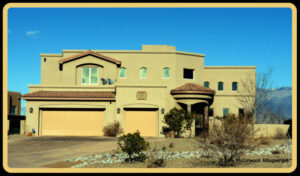 A new Presbyterian NOW offers emergency and urgent care services just 5 min away. Two major river crossings are easy to navigate, making over the river commutes a breeze. I-40 to the South and Montano to the North, or Paseo Del Norte is still further north.
All Oxbow homes for sale are available here for you to view. 
Each subdivision within Oxbow has its own HOA (Home Owners Association), and fees vary dependent on available security gates, parks, and common areas or amenities. The total home sites for all Oxbow communities are just over 400, with Oxbow North having the highest number of homes at over 160. Oxbow Bluff shows 100% fully custom homes on larger lots of approximately .25 to 1.0 Acres. Check here for Oxbow lots for sale.
The neighborhoods of Oxbow are in the Albuquerque Public School System (APS): West Mesa high school, John Adams middle school, and Susie Rayos Marmon Elementary. St. Pius X is a private high school within walking distance, and Bosque School is also a private school less than 10 minutes away. 
There are several popular communities near the Oxbow community you may also consider, like Andalucia, La Luz, Story Rock, and Petroglyph Estates.
With Bosque access from Oxbow, your family can enjoy a trek near the Rio Grande or head West, explore the Petroglyph National Monument and Rinconada Trail, or hike up one of the extinct Volcanoes on the West Mesa. Albuquerque is well known for its extensive trail system for cyclists, runners, or walkers. You can also find this article about Oxbox at ActiveRain.com.
If you're considering purchasing or selling an Oxbow area home, I would love the opportunity to earn your business. Let's have a conversation about your housing goals. 
Just Listed Oxbow Homes For Sale