Petroglyph Estates Homes for Sale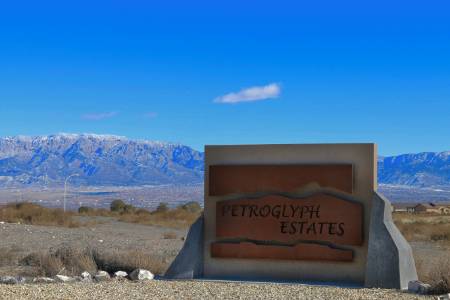 Petroglyph Estates Homes for sale is one of Northwest Albuquerque's newest custom and semi-custom home subdivisions. With expansive views of the Sandia Mountain Range and the Rio Grande Valley, residents are just minutes from the Petroglyph Estates Park, Boca Negra Canyon, and the Petroglyph National Monument.
This is the place to start if you're looking for a beautiful custom-built home. New homes are currently under construction with semi-custom to full custom designs and options. Mostly single-story dwellings to help protect the views, but some two-story homes with limited 2nd levels are being offered and sold.
If you are looking to design and build your custom home, you will need to locate a suitable lot to build on. There are still many available lots for your consideration. Some of the lots offered have no builder ties; others will be build-to-suit; the builder owns the lot but will build your design for you on that lot. Check here for all available Petroglyph Estates Lots For Sale.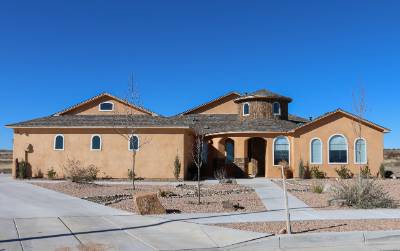 The Petroglyph Estates community sits atop a mesa created by ancient volcanic lava flows. There are some great outdoor opportunities to walk the established trail system of the Petroglyph National Monument. Here you'll observe ancient drawings on the volcanic rock.
The neighborhood is surrounded by natural beauty and amenities and just minutes to hiking and biking trails and open spaces. Albuquerque is well known for its excellent trail system throughout the city.  
Petroglyph Estates Homes For Sale is part of the Volcano Cliffs Property Owners Association and Volcano Cliffs Subdivision. The city of Albuquerque established the area as a SAD or Special Assessment District. The assessment provided the funds to develop the necessary infrastructure. Soon after the completion of the infrastructure work, this community started building out quickly. 
Petroglyph Estates in Volcano Cliffs is now one of Albuquerque's fine communities, and due to the custom homes and expansive views, it will continue to grow until completion.  If you are considering a custom-built home or even a house built by a national company like Pulte Homes, you will want to see this community soon.
The Builders and Home Design
Petroglyph Estates is primarily comprised of custom-built homes and homesites. There are currently existing homes for sale, move-in-ready speculation homes, and buildable lots available for your custom dream home. 
Pulte Homes are now offering several home options, ranging from 2449 ft.² to 3746 ft.². These homes are available in single and two-story designs with open floor plans, large kitchen islands, larger homesites, granite and quartz counters in both the kitchen and the bath, spacious bedrooms with optional fireplaces, large master bathrooms, and two or three-car garages. There are 11 home designs, all with unique features and layouts. All homes come with energy-efficient features, appliances, and smart home technology.
Abrazo Homes offer six models ranging from 1750 ft to over 2788 ft. Several of their design models may be expanded for additional living space. 
Another Builder in the Petroglyph Estates is Twighlight Homes. They have 11-floor plan options.
Petroglyph Estates Schools
The Petroglyph Estates community resides within the Albuquerque public school system. These are the public schools designated for this area, Sunset View Elementary, Tony Hillerman middle school, and Volcano Vista high school. All three of these schools are approximately 1 mile from most homes in Petroglyph Estates.
The Petroglyph Estates Area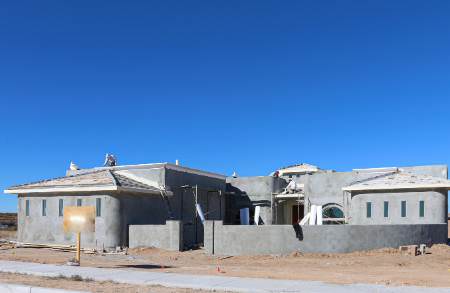 The surrounding area alone provides fantastic amenities like hiking and biking trails, sightseeing, and shopping. Some nearby stores include Sprouts Farmers Market, Albertsons, Defined Fitness, M'Tucci 's Italian, Wecks, Chic-Fil-A, Little Anitas, and many others. 
Petroglyph Estates sets back and away from the busy hustle of the city, but commuting will be a breeze. Unser Blvd or Coors Rd will give you access to 3 major river crossings, including Paseo Del Norte to the North, Montano Rd at Midway, and I-40 to the South.  
For more information on new home subdivisions, Petroglyph Estates, and all Rio Rancho and Albuquerque construction, contact our office anytime.
John McCormack REALTOR® has the knowledge, experience, and certification to guide you through buying homes in New Mexico.
John McCormack and Albuquerque Homes Realty have been involved with many of the lot sales in the Petroglyph Estates Community.  Here are links to some past blog articles. Petroglyph Lots For Sale, Petroglyph Lots Sold, Custom Home Lot in Petroglyph Estates, 
Petroglyph Estates Homes for Sale
Petroglyph Estates (Open Houses)
Petroglyph Estates Boundary Map