Welcome to our UNM Homes For Sale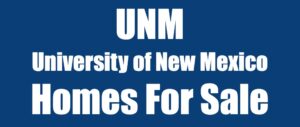 The UNM area, or the University of New Mexico area in Albuquerque, is split into two sections.  The two sections are divided by Central Ave, aka Old Rd 66. The UNM North area borders I-40 to the North, San Mateo to the East, and I-25 to the West.  UNM South is South of Central and shares the same East and West Boundaries. The Southern boundary jogs along Gibson Blv, Sunport, and University Ave.  You can search these separately using the menu on the RH of this page OR use the internal links provided here. This page shows both UNM North and UNM South. Scroll DOWN to see all UNM Listings. 
Discover your dream home in the vibrant University of New Mexico (UNM) neighborhood with our comprehensive search tools and expert guidance. Whether you're a student, faculty member, or seeking an excellent UNM Investment property, the UNM community is a great place to call home.  We are here to assist you in finding the perfect property that meets your needs.
Why Choose the UNM Homes for Sale Area?
Proximity to UNM: Immerse yourself in the energetic spirit of UNM with its world-class education, research opportunities, and vibrant campus life. Live just moments away from academic buildings, libraries, sports facilities (Go Lobos), and student-friendly amenities.
Cultural Richness: Indulge in the cultural diversity and artistic flair that Albuquerque has to offer. Explore the renowned Albuquerque International Balloon Fiesta, admire the stunning Albuquerque Museums, or stroll through the historic Nob Hill district, lined with unique shops, cafes, and galleries.
Outdoor Recreation: Embrace the beauty of the Southwest and enjoy various outdoor activities. The UNM area boasts easy access to breathtaking hiking trails and skiing in the Sandia Mountains, lush parks, epic bike paths, and the scenic Rio Grande Bosque.
Convenient Location: Benefit from the area's prime location, with proximity to downtown Albuquerque, major highways like I-25 and I-40, UNM Hospital, and the Albuquerque International Sunport, making travel and commuting a breeze.
Public transportation: The Albuquerque Rapid Transit (ART) system navigates daily through the entire UNM and Albuquerque area providing a reliable and economical way to travel and explore the city.
Explore a range of real estate options in the UNM area.
From cozy condos to spacious single-family homes, the UNM area has some of Albuquerque's more historic and standout unique dwellings. We can help you find a great home that fits your needs perfectly. As experienced real estate professionals, we are dedicated to providing personalized assistance throughout your home-buying journey. We understand the unique dynamics of the UNM area and will help you navigate the local market.
You will appreciate our streamlined home-buying process, making it efficient and stress-free. From initial property viewings to negotiations and closing, we are by your side every step of the way, ensuring a smooth and successful transaction.
You are at the best place to start your search for UNM Homes for sale.  Let Albuquerque Homes Realty be your trusted source for UNM listings, local lenders, inspection companies, and all related trades. Having all of that at your fingertips will help your real estate transaction be a success.
Get started now with your search of all UNM homes for sale in Albuquerque; please never hesitate to contact us at any time, and let's have a great conversation about your real estate goals.
If you like the UNM area, you may also want to consider the Downtown/Old Town area or the Uptown areas here in Albuquerque. The following zip codes serve the UNM area 87108, 87110, and 87119; you can search those areas for available homes as well.
Just Listed UNM Homes for Sale
UNM Homes For Sale (Open Houses)
UNM Homes For Sale (Boundary Map)