Fairgrounds Homes For Sale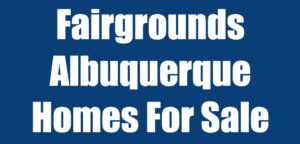 The Fairgrounds area of Albuquerque is just as it sounds.  The Albuquerque Fairgrounds are located in the heart of this section of the City. The site is also part of the International District.
I-40 serves as the Northern Border, while Central aka Rt 66, is the Southern Border. Wyoming Blvd is to the East, and San Mateo is to the West. 
The median 2022/23 market price range was about $252,000.  Most of the Fairgrounds Homes For Sale area were built in the '40s, '50s, and 60's.  
Kirtland Airforce Base and Sandia Laboratory are major employers for the Albuquerque community, and the Fairgrounds area provides quick commutes for those living there.  With Central being the Southern border, access to dining, shopping, and entertainment are abundant. The Fairgrounds are home to Expo New Mexico and the Annual New Mexico State Fair. The Downs Racetrack and Casino are a favorite stop for horse lovers and gamblers. 
Other nearby areas you may want to consider are the UNM Area, UNM South, or Southeast Heights.  You can also search inside the entire Southeast Albuquerque area or use the 87108 Zip Code search for this area.
If you have questions or wish to discuss some of the many options, please never hesitate to reach out.  We welcome the opportunity to have a great conversation about your real estate needs.
Just Listed Fairgrounds Homes for Sale
Fairgrounds Homes For Sale (Open Houses)
Fairgrounds Homes For Sale (Boundary Map)