Southeast Heights Homes For Sale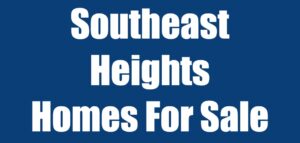 Welcome to our Southeast Heights Homes For Sale real estate webpage. Here you will find all homes currently available in this area of Albuquerque.  Just scroll down to see these homes.
Kirtland Airforce Base and Sandia Laboratory are both major employers in Albuquerque, and both facilities are in the Southeast Quadrant; this alone is a big draw for homeowners in the area.
Southeast Heights Homes are pretty diverse too. The range of home prices, ages, sizes, and amenities is vast.  Many older homes are here, but some newer ones are in communities like Juan Tabo Hills, Willow Wood, and Volterra. There are several townhome communities to choose from, like Trumbull Village, Longford Village, and Volterra. Due to the diversity, prices range considerably.  In 2023 the low end was approximately $75K for a manufactured home to over $580K for a much newer property closer to 3,000 sq.Ft.
There is plenty of shopping and dining opportunities here; with Central Ave, aka Old Rt 66, running on the North Border, there are always options for entertainment and enjoyment. The Nuclear Science Museum is located here. The Southeast Heights homes for sale are located in the 87108 Zip Code. Other nearby areas of homes for sale include Four Hills, the Fairgrounds area, and the UNM area. For a newer community and homes to view, visit our Mesa Del Sol page.
Just Listed Southeast Heights Homes for Sale
Southeast Heights Homes For Sale (Open Houses)
Southeast Heights Homes For Sale (Boundary Map)