Just Listed Albuquerque Homes for Sale from 700k to 800k
Albuquerque Homes For Sale from 700K to 800K.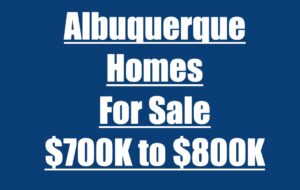 Welcome! This page will display all Just Listed Albuquerque Homes for sale from 700K to 800K. The search and display will cover all areas of Albuquerque currently listed for sale. This price range will include Albuquerque luxury homes, large estates, and custom-built homes over the entire Albuquerque Metro area. Scroll down to view all Just listed Albuquerque Homes for sale from 700K to 800K.
The real estate market for Just Listed Albuquerque Homes for sale from 700K to 800K can be competitive. We often see several offers on homes within this price range. The inventory is generally low, creating a supply-and-demand scenario.
There are several reasons for the high demand for homes in this price range:
Albuquerque is a growing city with a strong economy.

The city is home to State and local Universities and Colleges. Since Albuquerque is the largest city in New Mexico, it also acts as the HUB for the state's economy. With significant hospitals like UNM, Presbyterian, and Lovelace, there are many Physicians and Medical professionals within the community.

Albuquerque's cost of living is relatively low compared to other major cities.

The Albuquerque Sunport is an international airport serving as a Southwest HUB.

High Profile business entities choose Albuquerque for their company headquarters.
If you're searching for Albuquerque homes from 700K to 800K price range, be prepared to act when you find a home you love. You should also be able to offer at or over the asking price. Of course, each property and market conditions vary, so be sure to work with a professional real estate broker and Realtor®. You want to know if the asking price is at value.
Buying Tips: Albuquerque home for sale from 700K to 800K:
Cash is king with Albuquerque area real estate in general. Homes in this price range are no different.

Get pre-approved for a mortgage before you start looking at homes. If you are getting a mortgage, having a pre-approved mortgage is essential. Having this will help you compete even against a cash buyer, if any.

Be prepared to move quickly with your offer when you find a home you love. Homes in this price range often sell within a few days of being listed on the market.

Be prepared to make an offer near or over the asking price. In a competitive market, making an offer above the asking price is often necessary if the market demands this.

Work with a qualified real estate broker, a Realtor® who is familiar with the Albuquerque real estate market. A great Realtor® can help you find the right home for your needs and can represent your best interest in the negotiation process.
Use this quick link tree to find all currently available Albuquerque homes for sale by price range, or use the menu on the right side of this page.
$1M Plus, $900K-$1M, $800K-$900K, $700K-800K, $600K-$700K, $500K-$600K, $400K-$500K, $300K-$400K, $200K-$300K, $100K-$200K