Welcome to Placitas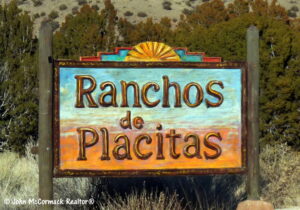 Placitas, NM, is an exceptional Southwest community just 15 miles North of the Albuquerque City limits. It's a quick and easy commute using I-25.  If Santa Fe is your destination, expect about 45 miles again using I-25 North.  Placitas has a rural community feel; the home sites are well spread out on larger lots.  This extra space gives homeowners some fantastic Northern Sandia Mountain views and fabulous Sunsets to the West. Dark Skies are encouraged, so stargazing is exceptional.
Residents here are intrigued by its quiet solitude, fresh air, and unending views. Wildlife is often seen in the area, including coyotes, Bobcats, Wild Horses, and much more. The High Desert brings all kinds of birds like Gambrels' Quail, Roadrunners, Jays, and seasonal travelers like hummingbirds.
Scroll Down to see all Placitas Homes For Sale
Things to Do in Placitas
The area is a mecca for hiking and mountain biking enthusiasts.  Several nearby trailheads are hot spots for these activities, including Placitas Trail Head, Strip Mine, Tunnel Springs, and Piedra Lisa North. The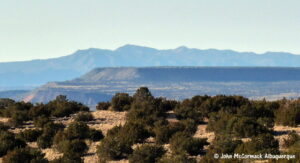 ​ Piedra Lisa trail joins the Piedra Lisa South trail and then to the famous La Luz trail, which ascends to Sandia Peak—looking for some off-road fun? Take NM 165 East through Placitas, which eventually turns into a dirt road.  This road, slowly and with many switchbacks, climbs up and ties into NM 536, the paved road to the Sandia Ski area and Sandia Peak. Note: This road is often impassable, even with a 4WD vehicle. Use at your own risk.
You may want to relax after a day on those hiking trails or enjoy an evening at the nearby Santa Ana Star Casino across the river on Hwy 550. The beautiful Tamaya Resort and Spa is nearby as well. Gorgeous Golf Courses are in the area as well. The Roadrunner rail system is very convenient and will quickly run you to Santa Fe for a day in the "City Different" or travel as far South as Belen, NM.
Placitas Homes For Sale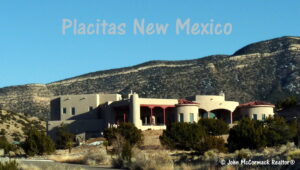 The options and opportunities for Placitas homes for sale and real estate are considerable. Generally, homes are more in the entry and upper-end luxury market.  In the 2022-23′ timeline, Placitas saw a Median sale price of $630K with a High of $1.6M and just under $200K on the low end.  The average square footage was 2600 sq. ft with a high over 5,000sq.ft. You can find vintage Adobe homes from the early days of the Village; there's an occasional manufactured home; however, newer construction and techniques, including Adobe, are prevalent.
The nearby town of Bernalillo provides essential services, including light shopping, fuel, groceries, and notable restaurants like The Range Cafe. Being just a quick drive to Rio Rancho or Albuquerque, many will take advantage of the broader shopping and dining options and big box and club stores like Costo and Sams. The Albuquerque Sunport is just 15 minutes further South on I-25.
If Placitas, NM, sounds like a beautiful piece of the Southwest you have been looking for, please don't hesitate to contact us with any questions or to see any Near South Valley homes for sale. We welcome the opportunity to assist you.
Other areas you may want to explore for real estate and homes for sale are Rio Rancho or Corrales. The East Mountains may be a good option as well.

Just Listed Placitas Homes for Sale
Placitas Homes For Sale (Open Houses)
Placitas Homes For Sale (Boundary Map)