Welcome to Rancho Encantado Homes for sale.
Rancho Encantado Homes For Sale is a community developed and built by DR Horton Homes in 2004-5. Most of the neighborhood is detached single-family homes ranging in size from 1500 sq. ft to just over 3000'. Prices typically range from $210's up to $420's as of April 2023. There is a separate gated community for the Rancho Encantado Condominiums.  For those looking for the conveniences and security of a gated complex and low-maintenance condominium lifestyle. You will find all Rancho Encantado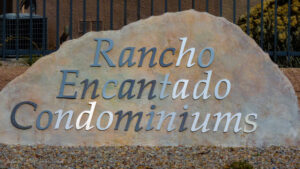 homes for sale and Rancho Encantado Condominiums right here.
Great Rancho Encantado Location
Rancho Encantado homes for sale are conveniently located in NW Albuquerque near the private St. Pius X High School and within two minutes of the business district near the Coors and I-40 interchange. You won't need to travel far to find major shopping, dining, and retailers like Walmart, Walgreens, Home Depot, and Sprouts Famers Market. Major restaurants like Chili's, Applebees, and M'Tucci are all very near. Major medical facilities like the new Presbyterian NOW provide Urgent Care and Emergency services.
Several major travel arteries make for quick commutes across the river and into the Downtown district. I-40 is 5 minutes South, and Montano Rd is just 5 minutes North. Coors Rd provides North and South travel as well as Unsder Blvd.  The short commute makes Rancho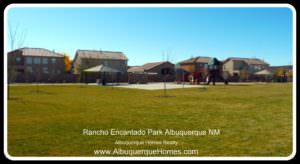 Encantado homes for sale an excellent option for many.
The Rancho Encantado subdivision offers a large and private "Rancho Encantado Park" where you will find play equipment and plenty of lush grass for the children and pets. The Petroglyph National Monument is within walking distance and makes a great hike to explore the ancient rock drawings and natural beauty of the Volcanic escarpment. Petroglyph YouTube
Rancho Encantado homes for sale is part of the Albuquerque Public School (APS) system. Students would attend West Mesa High, John Adams Middle, and Chaparral Elementary. St. Pius X is a private high school across Coors Blvd to the east, and Bosque School is just North of Coors.
Rancho Encantado is a covenant-protected neighborhood with a Rancho Encantado homeowners association (HOA). Dues are collected annually to support the management company and maintain the common areas. If you have questions or would like to see some of the homes for sale in Rancho Encantado, please get in touch with our office.
There are several fine communities near Rancho Encantado homes for sale you may also want to consider.  These included Story Rock, Western Trails, Oxbow, and Andalucia; there are many more to choose from as well.
Just Listed Rancho Encantado Homes for Sale
Rancho Encantado (Open Houses)
Rancho Encantado Homes For Sale Boundary Map